Welcome to
Province of St.Thomas the Apostle,

Chennai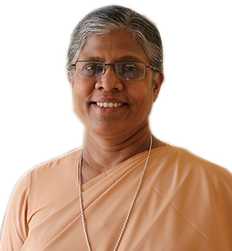 Sr Lazar Nirmala, Provincial
"... the Lord himself will give you a sign: The virgin will conceive and give birth to a son, and will call him Immanuel" (Is.7:14).
Warm and affectionate greetings to you from the Provincial House, Kodambakkam!
I am glad to wish you a very happy feast of the Immaculate Conception of our Blessed Mother Mary on December 8. This feast celebrates the Church's dogmatic teaching that the Blessed Virgin was given the gift from God of being conceived without original sin. It means that from the moment of her conception, Mary was given the grace not only of freedom from original sin but of being the only human being other than her Divine Son to live a life free from sin. In 1854 Pope Pius IX, in his papal bull Ineffabilis Deus, using papal infallibility, declared the Immaculate Conception of Mary to be a doctrine. Mother Mary was given this very special Grace of liberation from the effects of sin because she would be the Mother of God and bear the second person of the Blessed Trinity in her womb. This feast expresses the grandeur of God's love. Not only does God forgive sin, but in Mary he even averts the original sin present in every man and woman who comes into this world.This is the love of God which precedes, anticipates and saves.
Read More
Verse of the Day

[DailyThoughts]
Latest Videos

Latest News
Latest
Events

Gallery